Discover your perfect ride today and enjoy the thrill of cycling
Recharge completely as you pedal away from daily worries and stress
Say goodbye to traffic congestion and the headache of finding parking in the bustling city center by choosing the best option for getting around Thessaloniki. Reach your destination effortlessly through the new city's cycling routes and uncover hidden gems and picture corners along the way. 
Relish the freedom, calmness and exhilaration of cycling and let your troubles and worries melt away. Take your experience to another level with the ideal bike for you. Embark on an unforgettable adventure by choosing from a wide range of options, from comfortable city and mountain bikes to super-swift e-bikes.
Why this is the best option for you
Choose your wheels and explore Thessaloniki
Bicycles for every journey
Pick the bike that matches your style and preferences and ride through Thessaloniki's lively streets. Experience the city's vibrant atmosphere in the best way. 
City bikes
Designed for leisurely strolls, our city bikes are incredibly comfortable and easily adjustable. Whether you're a seasoned cyclist or new to biking, these bikes provide a smooth and effortless ride, making them ideal for all types of travellers.
Mountain bikes
Built with an athletic structure, our mountain bikes are perfect for those seeking thrilling off-road experiences. Conquer different terrains, explore scenic routes, and tackle challenging hills with ease. These bikes can handle rough terrain and provide the ultimate excitement for daring cyclists.
Trekking bikes
Trekking bikes are the perfect blend of flexibility and sportiness. Combining features of both city and mountain bikes, they offer a dynamic riding experience. They are ideal for those who prefer a sportier feel while navigating light off-road paths. 
E-bikes
Enjoy relaxed rides and explore Thessaloniki without breaking a sweat with our e-bikes. Whether you're planning a trip to the historic Old Town or simply want to cover more ground comfortably, e-bikes provide smooth cycling with a maximum speed of 25 km/h and an autonomy ranging from 40 to 60 km. 
Wooden Cocomat bikes
Perfect for those seeking something different, these bikes offer smooth and stylish rides. With automatic gear shifting and a pedal brake, the Cocomat bikes promise a unique and eco-friendly cycling adventure.
Don't hesitate to ask! Contact us to book your ride or for any further inquiries and information. 
We are committed to offering you the best biking experience in Thessaloniki.
Additional information we would like you to know before renting a bike in Thessaloniki
We offer the option of adding a child seat at the back of a bicycle for small children up to 20 kg.
The pick-up and return of all vehicles are handled exclusively at our store, located right in front of the iconic Makedonia Palace hotel.
What our clients say about us
With 9 years of experience in bike rentals and cycling, visitors have certainly a lot to say about us!
mila pilipovic
04/06/2023
Πολύ πρωτότυπο, διασκεδαστικό, για όλες τος ηλικίες, ακόμα και για όλη την οικογένεια! Μεγάλη ποικιλία σε ποδήλατα, καρτ, πατίνια κτλ. Πολύ ευχάριστη εμπειρία και ευγενικοτατο προσωπικό! Λογικές τιμές, αξίζει πολύ ειδικά στους τουρίστες μια γρήγορη βόλτα στην παραλιακή!
Dimitrios Paraskevopoulos
27/05/2023
Πολύ καλή εμπειρία. Το προσωπικό εξυπηρετικό.
Filip Bozhinovski
23/05/2023
We rented few bikes and the four man car. The staff is really pleasant and very fair when it comes to the pricing. If you are unsure how long the ride will take you, you can always talk to the staff and arrange for a fair fee.
Wollte für 2 Tage ein Mountainbike ausleihen. Hatte zuvor Konakt per Mail. Es klappte alles super. Faire Preise und meine Click-Pedale wurden vom Angestellten montiert. Super!
Καλή εξυπηρέτηση, καλές τιμές και ωραία ποδήλατα
Παναγιωτης Σαμουηλιδης
07/05/2023
Απίστευτη εξυπηρέτηση πάρα πολύ καλή εμπειρία
ΟΔΥΣΣΕΑΣ ΤΣΟΡΜΠΑΤΖΙΔΗΣ
05/05/2023
Μια απλή, εύκολη και ωραία οικογενειακή και όχι μόνο διασκεδαση
Ody Bassioukas
02/05/2023
Great service, lovely people!
Additional options for bike rentals in Thessaloniki
Check out our two-seater or four-seater bikes or rent the bike that fits you for more days!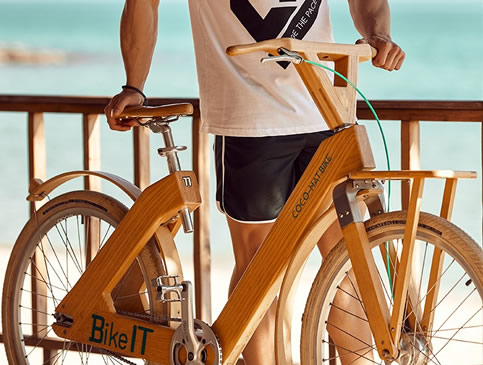 Rent your bike for more than one day and ease your daily commuting around the city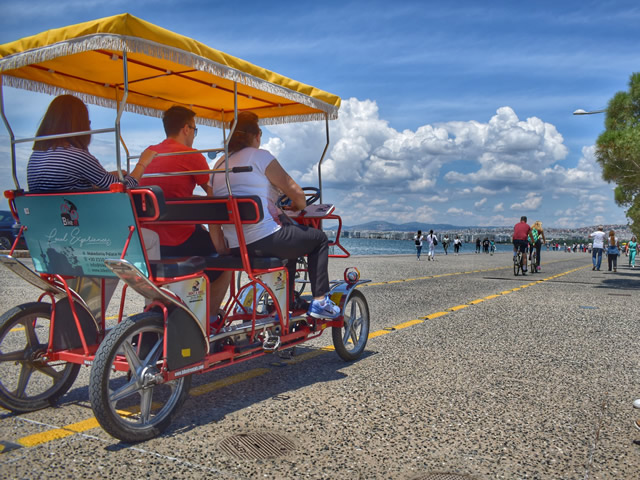 Enjoy unique moments with your friends or family along Thessaloniki's stunning waterfront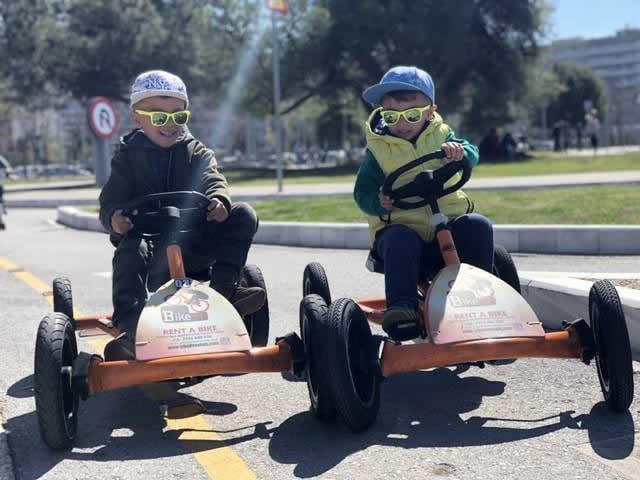 Find the ideal bike for every age and balance level. We offer scooters, balance bikes, and bikes with or without training wheels