Multi-seater-bike rentals
Discover Thessaloniki's waterfront in the most enjoyable way with your friends and family
Create lasting memories on a unique ride with your loved ones
Embark on an unforgettable group adventure along Thessaloniki's stunning waterfront with our multi-seater bikes. Explore the charm and beauty of this vibrant city together, creating cherished memories with your friends, family, or fellow travellers. 
Four-seater bikes
Our four-seater bike rentals hold cherished memories of laughter and fun. They are a popular choice for families with older kids and friend groups seeking a convenient and enjoyable way to explore Thessaloniki's promenade. 
Two-seater bikes
Our two-seater bike rentals are the No. 1 choice for families with young children and couples looking for a unique ride. With seating for two adults and two children, these bikes offer a fun and interactive experience for all. Join us on a ride and settle once and for all  the age-old debate: "Who rides better?"
Tandem bike 
If you are up for a challenge, a tandem bike rental is for you! Test your balance, timing, and coordination as you navigate the city's streets with your partner or friend. Regardless of the result, we promise you a memorable journey filled with laughter and excitement.
Why choose a multi-seater bike
Pedal your way together to adventure
Additional information we would like you to know before renting a bike in Thessaloniki
Two and four-seater vehicles are equipped with a front seat with a safety belt for children aged 6 months – 6 years.
The multi-seater bikes are specifically designed for the coastal bicycle path, covering the distance from the White Tower to the Concert Hall. 
The pick-up and return of all vehicles are handled exclusively at our store, located right in front of the iconic Makedonia Palace hotel.
Read more in Cycling in Thessaloniki safety tips
Don't hesitate to ask! Contact us to book your ride or for any further inquiries and information. 
We are committed to offering you the best biking experience in Thessaloniki.
What our clients say about us
With 9 years of experience in bike rentals and cycling, visitors have certainly a lot to say about us!
mila pilipovic
04/06/2023
Πολύ πρωτότυπο, διασκεδαστικό, για όλες τος ηλικίες, ακόμα και για όλη την οικογένεια! Μεγάλη ποικιλία σε ποδήλατα, καρτ, πατίνια κτλ. Πολύ ευχάριστη εμπειρία και ευγενικοτατο προσωπικό! Λογικές τιμές, αξίζει πολύ ειδικά στους τουρίστες μια γρήγορη βόλτα στην παραλιακή!
Dimitrios Paraskevopoulos
27/05/2023
Πολύ καλή εμπειρία. Το προσωπικό εξυπηρετικό.
Filip Bozhinovski
23/05/2023
We rented few bikes and the four man car. The staff is really pleasant and very fair when it comes to the pricing. If you are unsure how long the ride will take you, you can always talk to the staff and arrange for a fair fee.
Wollte für 2 Tage ein Mountainbike ausleihen. Hatte zuvor Konakt per Mail. Es klappte alles super. Faire Preise und meine Click-Pedale wurden vom Angestellten montiert. Super!
Καλή εξυπηρέτηση, καλές τιμές και ωραία ποδήλατα
Παναγιωτης Σαμουηλιδης
07/05/2023
Απίστευτη εξυπηρέτηση πάρα πολύ καλή εμπειρία
ΟΔΥΣΣΕΑΣ ΤΣΟΡΜΠΑΤΖΙΔΗΣ
05/05/2023
Μια απλή, εύκολη και ωραία οικογενειακή και όχι μόνο διασκεδαση
Ody Bassioukas
02/05/2023
Great service, lovely people!
Additional options for bike rentals in Thessaloniki
Get single bikes and explore Thessaloniki without limitations!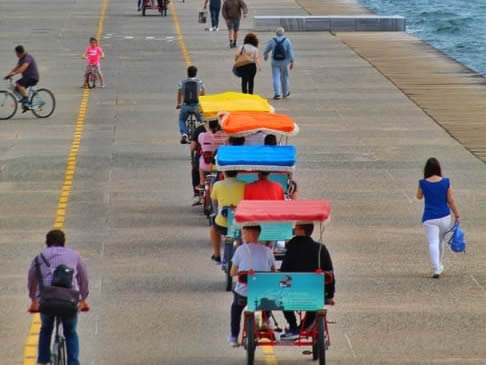 Does your company exceed 10 people? Discover how we can plan your collective experience
Discover our wide range of bicycles! Choose between city, mountain, trekking, electric and wooden bikes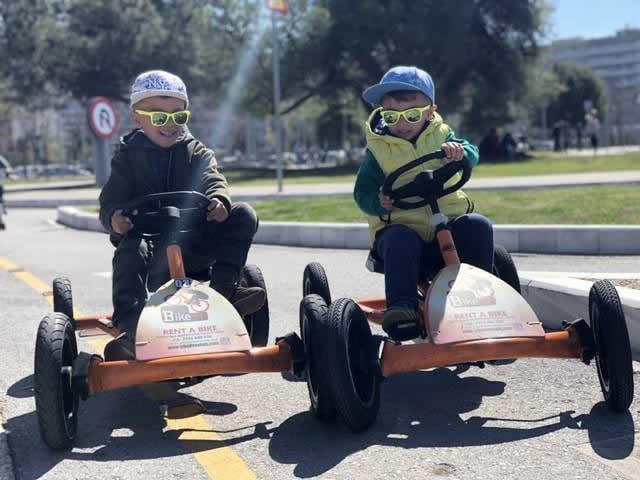 Find the ideal bike for every age and balance level. We offer scooters, balance bikes, and bikes with or without training wheels